gModeller
Build rich 3D building models for gEnergy from SketchUp
Generates gEnergy gbXML and EnergyPlus IDF models.
Over 450 gEnergy online building simulation projects for you to base your projects on.
Compatible with both Windows and Mac OS X. Download gModeller from the SketchUp extensions store.
---
What is gModeller?
Our gModeller plugin for Trimble SketchUp enables architects, designers and energy modellers to use SketchUp to create gbXML and EnergyPlus files which include the necessary information for further energy modelling. gModeller is easy to use, compatible with most energy and modelling systems, and simplifies the modelling process for doing accurate energy analysis and early stage "what-if" scenarios. As a result of using gModeller, Trimble SketchUp becomes an intelligent solution for low carbon building design.
With gModeller you can:
Turn your existing SketchUp models into gbXML and EnergyPlus models in seconds using our auto convert tools.
Identify and label model surfaces and spaces.
Make your models instantly compatible with most energy and 3D modelling systems through our range of model exports.
Import existing gbXML models to view and edit in Trimble SketchUp; no high license fees and no steep learning curve.
Export EnergyPlus models. These can then be run online in gEnergy to gain insights into the performance of your models.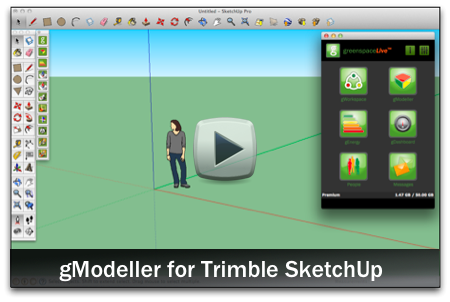 gModeller is part of our gTools suite in which you can:
Store, share and backup your model to our cloud storage system.
Time stamp previous versions of your model through our innovative file versioning facility which allows you access any time online.
Team share with a built in messenger and notification system, you can contact your colleagues about your building, regardless of you or your team's location.
Export directly to gEnergy for powerful energy analysis of your SketchUp models
Common Issue with other 3D Model software:
Although AutoCAD and Revit also have gbXML capabilities, their surface naming convention is produced by an indexing algorithm that is not static. Surface names may change as new surfaces are added or deleted from the model as your design develops. This transient naming convention does not allow you to use the same load model throughout the design. In effect every time you make a change to the model, you make a change to the geometry, which is not practical.
gModeller solution:
By using gModeller you enable static and custom surface and opening names which enables you to have one geometric model and one load model throughout the design process, allowing ease of use and a solution to this issue.