In April 2012, we were confirmed as the UK's official consortium in The Affirmative Integrated Energy Design Action (AIDA) project. AIDA is a project funded by Intelligent Energy Europe with a view to supporting building professionals and local authorities in the designing and implementation of nZEB's (nearly Zero Energy Buildings). Through a series of study tours, sustainable policies and web-based BIM (Building Information Modelling) software; the AIDA project aims to increase the number of nZEB buildings throughout Europe, the number of building professionals trained on integrated energy design and the number of municipalities starting to build/refurbish buildings to nZEB levels.
We have already completed one study tour of a primary school in Wolverhampton, which was the UK's first Passivhaus certified primary school. The tour proved to be a success and the full document can be read here (OakMeadow_successStory_2012_02_15). In addition, our gEnergy tool is now ready to be presented in workshops during the study tours. gEnergy is being offered for use to project partners and participating municipalities, architects and engineers. It will be used to identify where improvements are needed in existing buildings and to demonstrate that proposed new designs meet nZEB requirements.
On the 22nd of January we will be presenting our second study tour, a local island building; The Galson Trust Business Centre: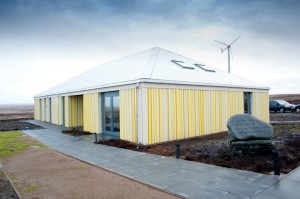 This will feature a design presentation and tour of the building, followed by a Q&A and a demonstration of our Energy Design Tools. Finally we will be stopping at the Galson Wind Turbine where our AIDA Project Manager will be giving a brief technical lecture. If you would like to be present at the study tour please follow the link and register:
http://www.aidaproject.eu/study_tours_en.php
AIDA's core objective is the eventual widespread adoption of nZEB throughout Europe and to help the EU's 2020 objectives for reducing energy consumption and carbon emissions. We at GreenspaceLive are excited to be part of this collaboration project, and we hope it's the beginning of a sustainable future.
AIDA CONSORTIUM
Vienna University of Technology – Energy Economics Group
AEE – Institute for Sustainable Technologies
CIMNE BEEGROUP, – Building Energy and Environment
Centre for Renewable Energy Sources and Saving – Energy Policy Analysis Department
EURAC research – Institute for Renewable Energy
Geonardo Environmental Technologies Ltd.
HESPUL – énergies renouvelables & efficacité énergétique
IREC – Catalonia Institute for Energy Research
Energy Cities (sub-contractor)
Tags: Low Carbon Building Design, teams