Extract  from HHP – Homeward (July 2012)
In 2011 Hebridean Housing Partnership (HHP) were successful in their bid for Renewable Heat Premium Payment (RHPP) funding from the Department of Energy and Climate Change (DECC). HHP were one of only a dozen Housing Associations in the UK to receive the full funding amount of £175,000 which went towards the installation, and monitoring of Air Source Heat Pumps. HHP impressed the judging panel, which included experts from the Scottish and Welsh Government, Energy Saving Trust and DECC.
A representative of DECC said the HHP bid was exemplary. On the 28th May HHP were asked to help the Department of Energy and Climate Change (DECC) launch a new £10 million scheme aimed at installing renewable heating across Great Britain.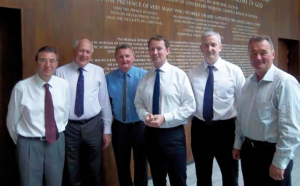 The second phase of the Renewable Heat Premium Payment (RHPP2) is a competition available to all UK social landlords including HHP. HHP Investment Manager, Peter O'Donnell and Donald Macritchie, Director of Greenspace gave a presentation to industry leaders at the event in St Martins in the Field in London alongside the Energy and Climate Change Minister Greg Barker. The presentation was well received by those attending including DECC and the Energy Savings Trust. Greenspace are based at Lews Castle College UHI and provide consulting support to HHP Chair George Lonie said: "I am delighted that HHP have been recognised on the national stage for the work we are doing in trying to combat the significant challenge of fuel poverty in the Western Isles. We are also delighted to be able to assist DECC in the launch of the next round of funding for the RHPP social landlord competition."
HHP will now be looking to prepare a bid for RHPP2 to enable more homes within our stock to have access to renewable heating systems.